Your Home Movies on High definition Blu-Ray DVD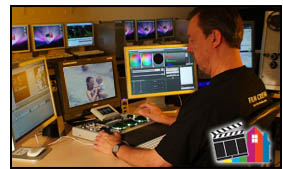 Home Video Studio's Film Transfer Department has taken a big step forward in providing High Definition home movie transfer! We are proud to announce the arrival of our new MWA-Nova FlashscanHD for 8mm, Super-8 and Super-8 sound home movie transfer. Now you can have your film digitized and put on a DVD or a hard drive knowing it's being processed with the state of the art in sound and silent film transfer!
With a completely digital path and the highest quality capturing codec (Apple pro-res 422) your home movies, even in Standard Definition, will look fantastic. And, if you want High Definition to a Blu-Ray DVD we can provide that in a 1280X720 resolution as well!

Another great feature of the Flashscan is its sprocketless transport and laser frame alignment. What does that mean to you? It means no jerky film movement because of damaged sprocket holes. It means you see 100% of the frame even if the film has shrunk.
What about sound? There is no higher quality sound reproduction available.

Contact a Home Video Studio Westfield Today at 908-301-9300 and ask about Home Movies on HD Blu-Ray DVD.
Learn More, Click Here: